Unleash the true potential of your marketing efforts and deliver exceptional customer experiences with the help of a Customer Data Platform (CDP). Seamlessly integrating data from all channels, a CDP ensures consistent and personalized interactions with your customers at every touchpoint.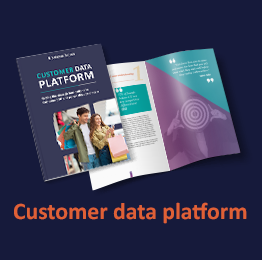 Key benefits of implementing a CDP:
Create unified customer profiles: break down data silos and gain a comprehensive view of your customers' needs and behaviors.
Achieve omnichannel personalization: tailor your marketing messages and experiences across various channels to engage customers on a deeper level.
Increase efficiency: streamline your marketing operations and eliminate redundant processes.
Understand your customers: gain valuable insights into customer preferences, enabling you to continuously enhance their experience.
This white paper contains following sections:
Marketing and CX today need more understanding to succeed 
Increase customer comprehension with a customer data platform  
What is a customer data platform (CDP)? 
What types of platforms are available? 
Different types of CDPs 
How does a CDP work? 
What is the value of one platform? 
CDP and the customer journey: use cases 
CDP success stories 
Our methodology 
Conclusions: maximise your CX and marketing activities with a CDP 
Why work with Business & Decision?
---
Take your marketing to new heights and revolutionize your customer experiences. Download the white paper now to uncover the full potential of a CDP and learn how it can maximize your CX and marketing activities!